Meet Kevin, a freelance Electronic Engineer. After studying Electronic Engineering at Bristol University he went on to work in a variety of companies until August of 2019 where he went freelance. Kevin provides consultancy, electronic and circuit board design for smaller or medium-sized companies. Later down the line, he intends to make a logo that represents him, a website and a set of case studies. Not only that but he plans to do some projects outside his comfort zone, especially firmware which will be an interesting area to explore. 
As an Electronic Engineer, Kevin's day to day usually differs. From solid technical work, doing a circuit board or software, to meetings, documents or lots of phone calls…each day can be different. He also allows himself the occasional break for a coffee or the Friday 4 pm beers in the Raw Space roof garden. Kevin has been a member for about a year and a half now. He's said aside from the obvious perks of socialising and accommodating atmosphere there is a far better benefit…  The dogs that other workers will bring in for a little chance to say hello!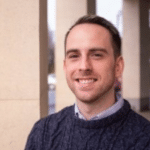 Kevin speaks about starting out in freelance:
"There are so many areas to think about that are new. Do a decent amount of research,". He voices how important it is to pick an approach and to just go for it, "don't get bogged down … persistence is the key". 
Find out more about Kevin on his website or LinkedIn