Rob is the founder and Creative Director of Board Game Bud, an outlet for all of his buzzing board game ideas and a chance to share them with the world. Beginning just as a hobby, it has now become a fully-fledged company. Tinderblox, their first game, was licensed to Alley Cat games and launched on Kickstarter alongside Kittin. The funder hit the target goal of £5,500 in just 2 and a half hours, then proceeded to hit £20,000 before the night was up. Ending 28th of February with £44,476 the campaign was a phenomenal success. If you missed the kickstarter you can now pre order gamer on Alley Cat's website.
Rob mainly focuses on developing games for the Artisan series of mint tin games, aiming to create twelve little beautifully designed games that can fit in your pocket with ease. A sucker for a good pun, you'll notice a theme throughout the names of most of his games from Lost Tin Space and Pack It Tin to our favourite…UnBearable. As well as designing games for groups of friends or family, Rob strives to create games that attract the individual. With their first game licensed, Board Game Bud are now looking to head down the road of self publishing. Alongside Rob's creativity, Tom works on the commercial and business side of Board Game Bud as managing director. Between them Rob and Tom plan to launch a Kickstarter later this year to create their first self published UnBearable.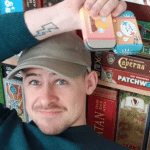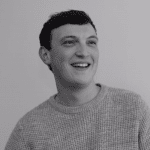 2020 is a busy year for Board Game Bud, having celebrated the first successful game launch with Alley Cat Games already, they have a year full of business development, creating new games, collaborations, self publishing, conferences, podcasts and more lined up! We're incredibly excited to see the launch of UnBearable, an incredibly popular game here in the office during our Friday drinks and boardgames- often play testing Rob's great new creations! 
We are also excited to hear about new collaboration with another member of Raw Space, Uh-Oh Books (An interactive, educational and eco friendly children's book). Rob has designed an incredibly fun, creative and simple game for children following the themes of the book and we're excited to see this develop throughout April as the two teams work to launch a Crowdfunder for the book to be published featuring this incredibly cool card game!
Rob has some advice to people starting out in creative industries…
"Find someone to impress." "If just one person cares, it's going to drive you forward".
Rob has always places a particular emphasis on community, having found through his own experience having people supporting and backing what you do can make a huge difference. Sometime you need someone else believing in what you do and cheering you on to help you know you're making a difference to someone else out there. 
"Set yourself constraints".
Rob says that having deadlines and rules it forces you to actually finish and refine and polish the key elements of the games. As a true believer of creativity within constrains, Rob thinks having boundaries can actually improve creativity. Whether that's a selected colour pallet, a number of cards or even fitting in a mint tin. No matter what the constraints are they can help focus the creativity and form great ideas. 
We've loved having Rob in the Raw Space community and are excited to see such exciting opportunities arising for Board Game Bud. We look forward to seeing lots more opportunities, growth and exciting announcements from Board Game Bud in the future.
To find out more about the members at Raw Space and our community check out more member focus features here!