This week we're focusing on member Brendan Murphy of Bristol 365 and BARBIE- the association of restaurants bars and independent establishments. Brendan is a Bristol based, online advertising specialist, whose expertise is giving businesses large amounts of online exposure. As the business developer for 365 Bristol, Brendan works alongside a team of knowledgeable writers, skilful business developers and adept digital specialists to support Bristol businesses. 
Bristol 365 started in November 2013 and has become the leading events and entertainment website in Bristol. With a mission to focus purely on the events and entertainment, Bristol 365 stays away from clickbait traffic of when it's going to snow and party politics, choosing instead to concentrate on parties, nightlife, food and drink, festivals, gigs, theatre, comedy – anything leisure and entertainment oriented. The team prided themselves on ensuring the site covers all major events in Bristol and has partnered with almost every single leading business in the area, ensuring that we know anything and everything going on in Bristol. January 2017 saw the launch of BARBIE, the Bristol Association of Restaurants, Bars and Independent Establishments.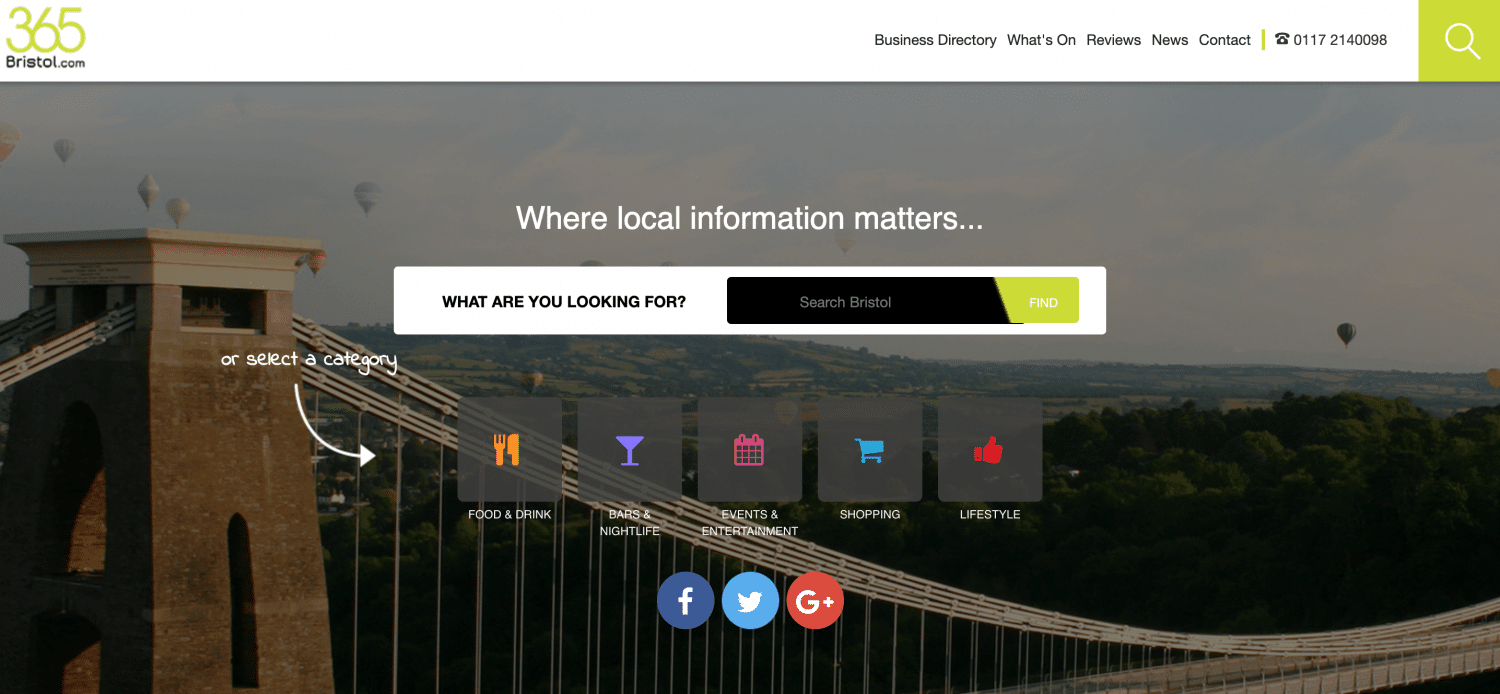 Brendan had been involved with a similar website to 365 Bristol since 2007 but when the founder and majority shareholder sold the company they didn't like the people who took it over or how they were looking to run it, so they decided to set up themselves. With the original founder a good friend, who is always on hand as a sounding board for our new ideas, Brendan and the team have had support through their start up process to help them see the success they now have.
So what success has 365 Bristol seen? 
365 Bristol now has a lot of 4 and 5 year clients, which Brendan says provides a great deal of satisfaction when clients rebook knowing that they see the 365 team working hard and doing a great job for them. Some of the previous editors at 365 Bristol have also moved on after a few years with the team to fantastic careers ranging from broadcasting, journalism and even American Football coaching… which Brendan says is great to see. Having taken on staff following internship programs with UWE and Bristol Uni, Brendan clearly values supporting the development of his team members. 
"We've taken on a number of staff following internship programs with UWE and Bristol Uni which I'd highly recommend for any small business to get involved with."
365 Bristol is not the only one to have seen success in the past few years, BARBIE has also really grown since its launch in 2017. Now up to nearly 8,000 members, BARBIE looks after more than 350 venues in Bristol, as well as a current expansion across the South West and Wales being put into place. The parties for the workers in Bristol's night time economy consistently receive rave reviews although Brendan does have concerns… " just concerned that when we have to do these in multiple cities that the hangovers could be weeks long!"

It's not all parties, success and growth though. Like all small businesses, Bristol 365 and BARBIE – association of restaurants bars and independent establishments have had their challenges along the way. Not everything they have tried has worked but they focus on learning and improving from each situation. Brendan told us; 'You've got to be prepared to put the hours in and take criticism on the chin'. For their team 'it's about working out what you can deliver as a service then trying to exceed the clients expectation', which is great advice for any small businesses. 
Brendan and his team have great plans for the future, starting with the second issue of LOUD magazine (the Bristol music magazine that's only about Bristol and music.) that is about to arrive with two more issues planned for Summer and August. Alongside a couple of events they're due to be involved in, it's looking like a busy year ahead for the team. 
Long term the team has big goals with plans for a couple of other local sites launching and more ideas for magazines.  Add the launch of the BARBIE app, which the team hope will provide a breath of fresh air for residents and visitors of Bristol whilst supporting the brilliant independent businesses of Bristol and we expect to see incredible things for the team over the next few years. 
Finally to end we asked Brendan for one piece of advice for someone trying to make a career for themselves and we just loved the answer… 
"Go for it. If you work hard the rewards will come but make sure you are focused and determined to be successful. If it doesn't work out you can always get a proper job!"
To see more member features and find out more about the community check out other blog features here!